LIBRARY PRESENTATION: CAERPHILLY COUNTY, UNITED KINGDOM
Caerphilly Library presented with first copy of local author's book
Posted on : 24 Apr 2019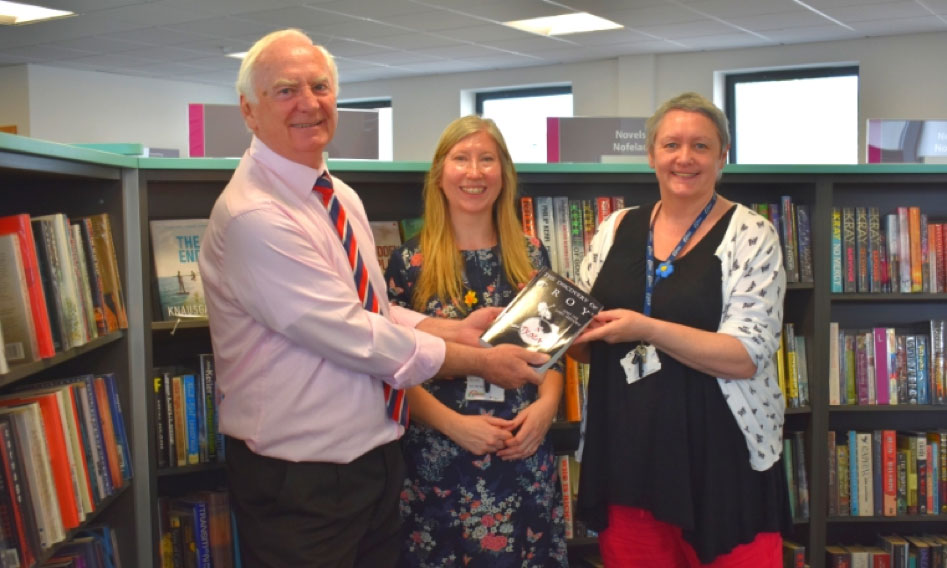 Author, Bernard Jones (left) with Senior Library Assistant Mary Jenkins and Reader Development Officer, Karen Pugh (right)
Mr Bernard Jones presented Caerphilly Library with the first printed copy of his book that took over 30 years to produce.
Originally from Caerphilly, Mr Bernard Jones has been a historian for 35 plus years, completing his post graduate research in ancient philosophy/mythology and ancient history. Starting his research back in 1981, he spent a lot of his time in the old Caerphilly library.
Mr Bernard Jones commented "I had no personal computer and there was no internet. My research was done mostly in the local library and my research assistants were the librarians. In my book, shortly to be published, I pay tribute to these unsung heroes of my early research. My undying thanks go to these very special people."
'The Discovery of Troy and its Lost History' is a book about The Trojan War which supposedly devastated Europe and Asia and plunged the known world into a Dark Age that lasted 500 years; however Mr Jones' 30 years of painstaking investigative research has finally solved the 3,000 year old mystery.
Cabinet Member for Education and Achievement Cllr. Philippa Marsden, commented "What a fantastic honour for Caerphilly Library to receive the first printed and signed copy of The Discovery of Troy and its Lost History. I imagine there will be many people taking an interest in this book which contains so much history from the Age of Heroes."
Mr Bernard Jones finished with saying "This book is the 'one-and-only' first printed proof of my book, The Discovery of Troy and its Lost History. I can think of no better repository than the Library where all my work started."
The book is set to be published on the 2nd of May, 2019 and will be available in retail bookshops worldwide and also on Amazon (US, UK and Europe).
source: www.caerphilly.gov.uk